St Mary's a 'WELL' Church growing through prayer and service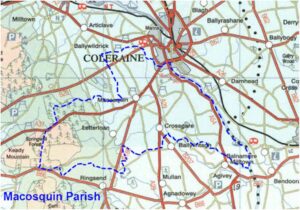 The Parish contains 17,804 statute acres, of which 65 are in the River Bann. The boundary follows the River Bann from Sandleford Bridge past The Cutts at Castleroe continuing south to the ancient site at Camus and on to Beverlands Burn just north of Culcrow Primary School. From this point it continues west crossing Moneybrannon Road at Crossgare Presbyterian Church and Drumcroon Road at Kinneyglass Road junction. The boundary crosses Cashel Road at Shinny Road junction and then on to Craigmore Road at Cam Road junction. From here it passes through Cam and Springwell forests before crossing the main Limavady Road near to the top of the mountain and on to near little Fermoyle Church just off the Windyhill Road. Turning east the boundary follows the Macosquin River to Isle Bridge and on to Ballystrone Bridge before turning North to take in the townlands of Ballyvennox, Ringrash, Ballinteer, Lismurphy and of course Macosquin. The boundary returns to the Limavady road at Greenmount and closes the loop to Sandleford Bridge.
Today the Parish can boast a thriving Riverside Regional Retail Park in the Somerset townland. Also, in the Cam and Croaghan townlands three of Northern Irelands largest Quarrying and Civil Engineering Contractors, Northstone, White Mountain and B Mullan and Sons have large basalt quarries and road construction plants.
Ardvarness
Balinteer North
Ballintaggart
Ballinteer South
Ballynacanon
Ballyness
Ballyness
Ballyvennox
Ballywillam
Bushtown
Cam
Carndougan
Cashel
Coole Glebe
Coolyvenny
Croaghan
Crossgare
Derrydorragh
Dromore
Drumcroon
Dunderg
Englishtown
Farranlester
Farranseer
Gills
Glebe
Glenleary
Greenhall
Killmaconnell
Killure
Kiltinny Lower
Kiltinny Upper
Kinneyglass
Learden
Leck
Letterloan
Lismurphy
Macleary
Macosquin
Ringrash Beg
Ringrash More
Somerset
Tamnamoney