Childhood in the Old Rectory Macosquin 1947 – 1954
St Mary's a 'WELL' Church growing through prayer and service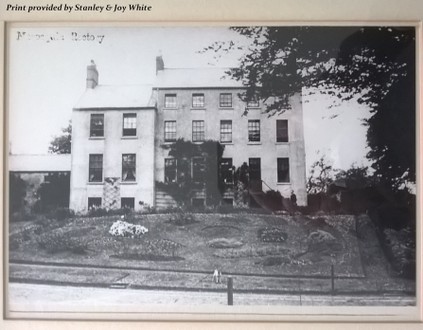 My mother always worked in service to the gentry. She started in Terrace Row Manse, which was called 'Edenmore' on the Castlerock Road; it is now a nursing home. She then proceeded to work in Macosquin Old Rectory.
Revd B Faulkner was the Rector and when he went to his new parish in Tobermore, the Revd GR Minchin arrived from Carrigart, Co. Donegal on 6th February 1946.
My mother had already met my father; he had come from Co. Donegal looking for work but as there was nothing in Coleraine he went off to Scotland and found clerical work in John Brown's Shipyard in Glasgow. In 1946 he returned to Macosquin and they got married in September 1946. They rented the flat downstairs in the Rectory. My mother still remained as the housekeeper and my father got a job in the cheese factory in Coleraine.
I arrived on 4th December 1947 and my father took ill when I was just three months old. My mum had to stop working in the rectory because she had to look after me and my father. My father died on 9th July 1949. My mother only received £1.00 pension and had to return to the Rectory to work and I had to go with her.
I enjoyed my life in the country; mother took me for lovely walks; we looked for birds' nests and birds. I went to church and Sunday school and enjoyed the company of the other children, then it was time for me to go to school when I was five.
Revd Minchin met and married Miss Elizabeth Miles from Dervock. They had two children, Barbara and Peter and I then had a little friend to play with in the Rectory. Unfortunately Barbara was killed in Macosquin village when she was just 11 years old. She was on her bicycle when she was hit by a car.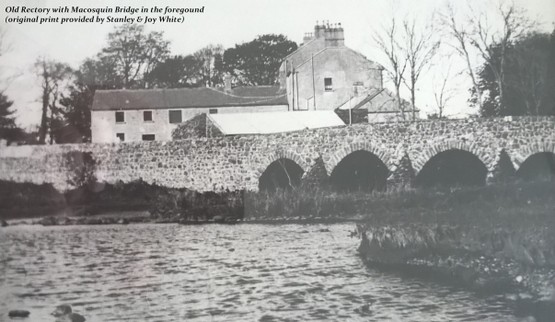 Macosquin was a lovely village to grow up in. Mother and I went to visit relations a few miles up the road and they always left us home in their car. That was a treat!
The blacksmith had his business up the road and we would go and see the horses being shod. I was always worried in case the horses would feel the pain getting their shoes on, but of course they didn't.
My mother was a deeply religious woman. She taught me the Lord's Prayer and little children's hymns before I went to Sunday School. I remember her praying at her bedside every night when I was a small child. I can remember being up in the Rectory with mother and the Rector would have been in his study. I was about three and I went in and greeted him in the morning, saying, 'Good morning Mr. Manny.'
In September 1954 mother thought it was time to move on. A new development had been built in Coleraine called 'The Heights.' We said Goodbye to the Rectory and moved to Kylemore Road to an upstairs flat. I just hated it; no gardens, no flowers, no trees and having to start in a new school, Sunday School and church. However, time does heal and I eventually settled down.
Memories are wonderful and I will never forget the Rectory and Macosquin. It was a wonderful start to my life.
Pamela Hutchinson 23rd March 2016