St Mary's a 'WELL' Church growing through prayer and service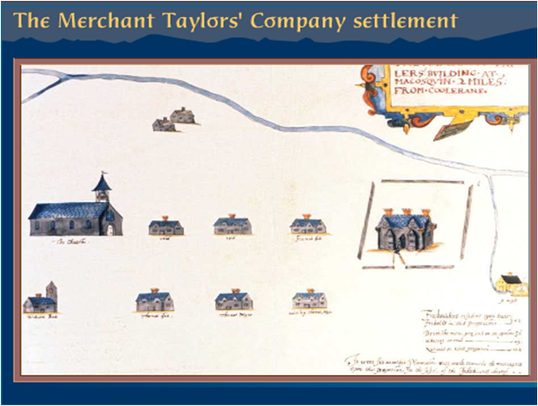 When Pynnar (an inspector of Plantation fortifications) visited Macosquin in 1619 this new church was practically finished. It was 86 feet long and 32 feet wide, the roof was set up and it was ready to be slated.
Records of 1622 note that the Parish Church provided by the Merchant Taylors was consecrated as the Parish Church of Camus and Macosquin by Bishop of Derry Downham who was Bishop from 1616 until he died in 1634. Records of Merchant Taylors Guild in 1630 contain the following entry, " We have one faire Church built of lyme and stone, consecrated and appointed to be the Parish Church of Macosquin and Camus. It conteyneth in length four score and eight foote and in breadth thirtie two foote and it was later re-edified and repaired with a strong roofe of tymber, slated and in addition of three windows and two doors. The Parson was James Osborne, Master of Artes whoe we hear is latllie deceased and the Bishop of Derry hath presented one John Freeman thereonto. We have also sent these ornaments for the Church:

One bell with a wheele and fork of three hundred weight.
A Communion Cup of silver weighing seventeen ounzes.
One Pewter Pott for the Communion Table.
A Church Bible and two Service books.
A Green cloth for the Communion Table.
A Green cloth for the Pulpit and a green cushion for same with the Merchant Taylors Arms embroidered upon them both

Pynnar found that Valentine Hartopp had rented the estate for 61 years from the Merchant Taylors and had newly come to live there. The fortified house or castle (on the site of Churchview, Ringrash Road) was 50 feet long and 34 feet wide and had battlements, though no bawn had yet been constructed round it. Lying between the castle and the church were seven good houses, built of stone and lime and slated. Thomas Myr lived in one and had built another and three other houses were occupied by William Ball, Francis Gill and Thomas Gill. On a stream nearby there was a mill with a water wheel.
Pynnar found that there were six freeholders on the estate which had 60 acres apiece. There were eighteen persons who had leases for years of areas varying from 36 to 210 acres. There were five cottages which each had a house and garden plot and three acres of land.