St Mary's a 'WELL' Church growing through prayer and service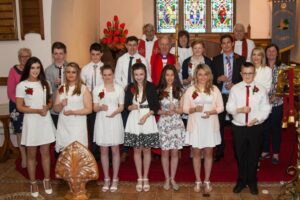 This is a significant milestone in membership of the Church of Ireland. Candidates who may have been baptised years before and have been prepared by their Rector, often with the help and support of other active members of the church, are presented to the Bishop who lays hands on them and prays that, 'They may be confirmed with God's heavenly grace and continue his for ever, daily increasing in his Holy Spirit until they come into God's heavenly kingdom.'
It is often a very memorable event and although Christian development is a life-long process, confirmation marks the fulfilment of the spiritual nurturing responsibilities of parents and Godparents, and often the completion of the church's programme of teaching for younger children and Sunday Schools.
A confirmation course can last for months and sometimes even years, and is an undertaking which demands great commitment by candidates, their families and the leaders. It will cover all aspects of Christian faith, an understanding of the contents of the Scriptures in the Old and New Testament, and especially the 10 Commandments. They will learn how to use the Book of Common Prayer as a treasury of devotion, the various services and particularly the significance of the sacraments of Baptism and Holy Communion. They will also experience different kinds of private prayer.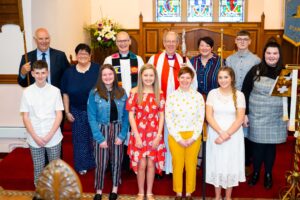 They will be taught the story of the Church of Ireland and its basic Scriptural teachings, and also its relationship with its sister churches in the Anglican family, and with other Christian traditions . In talks, conversations, and in practical exercises, candidates learn together as a group, playing their part in Sunday worship, in some mission and charitable activities, and in a weekend away together, they apply lessons which they have been taught about the relevance of Christian teaching in every day living.
In a private meeting with each candidate at the end of the course, the Rector assesses whether he or she feels ready, genuinely wishes to be confirmed and is committed to leading a worshipping Christian life as a communicant member of the church.
No one is ever too old to be confirmed, and adult confirmations are becoming more common. Normally candidates should be at least 13 years of age by the time of confirmation. In our small country parish we usually hold a confirmation course over the winter months on alternate years. Following confirmation most churches try to retain the interest and involvement of the recently confirmed through Youth Groups and a variety of activities.