St Mary's a 'WELL' Church growing through prayer and service
The origin of this newspaper cutting is unknown; it may be of interest to those who knew the McMath family of Ballinteer, who were local farmers and landowners and great benefactors to the parish.
The accident happened on 12th June 1937 – http://www.rcawsey.co.uk/Acc1937.htm "A list of fatal air accidents in Britain and Ireland 1935 – 1937"
"12.6.37
Fury II K8219, 9 FTS, Thornaby
Crash into hill in fog, Divis Mountain, near Belfast
Fg Off Alfred Archibald McMath (23) killed"
Also of interest is Ivy McMath (deceased 2009) who was a WRAF pilot during WW2 and who flew aircraft across the Atlantic to be prepared for wartime operational roles in Northern Ireland before she flew them to bases elsewhere in UK.
She was the daughter of a master baker in Limavady. She married into the Mc Math family and had to resign her commission on marriage.
Impressive Funeral Scenes
Coleraine and district, and indeed the entire province of Ulster, were horrified on Saturday evening last to learn of the air crash on Divis mountain which ended the life of Flying Officer AA McMath, Ballinteer, Coleraine.
Passing over Divis mountain at about 10.30am, the aeroplane, a fast single-seater machine, was heard by engineers at the Post Office radio station, Ballygomartin, to be flying very low and apparently losing altitude. There was an enveloping mist at the time and the pilot was evidently searching for Aldergrove aerodrome, to which he was returning form Catfors, near Hull.
The wireless engineers rushed out, realising that the aeroplane must pass very close to the wireless masts, if it did not actually become entangled. They heard it pass overhead and a moment later a dull thud told that disaster had overtaken the machine by its striking the mountainside.
Visibility was reduced by fog to about thirty feet, and considerable search was necessary, even over the restricted area to locate the wrecked machine. Ambulances from Belfast Fire Brigade and Victoria Barracks were quickly on the scene, but it was only too apparent that Flying Officer Mc Math had been killed instantaneously. The identification of the body fell by a tragic coincidence to Mr WC McClenaghan, of Coleraine, a school-fellow of Archie Mc Math, who arrived at the radio station immediately after the crash, being a Post Office engineer.
The tragic features of the disaster were numerous and heart-breaking. It was calculated that an increase in altitude of fifteen feet would have enabled the aeroplane to clear the mountain in safety. Or, had the pilot some little distance to the side of his actual course, he might have flown through a valley to safety. He had spent the previous night at Stranraer owing to fog, but decided on Saturday morning to complete his crossing.
McMath, who was only 23 years of age, was on his way from Catfors near Hull to Aldergrove, intending to spend the weekend with his parents at Coleraine. He had been before on leave only three weeks ago. His younger brother Ernest was setting out to drive him home when news of the tragedy was received.
Flying Officer McMath's Career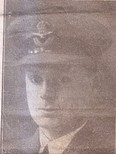 Flying Officer Archibald Mc Math is a son of Mr Joseph Mc Math, a prominent farmer of Ballinteer, Coleraine, member of the County Londonderry Committee of Agriculture, Coleraine's Guardians and Rural Council, Regional Education Committee, a leading Orangeman and member of Macosquin Parish Church.
The dead officer was an old boy of the Coleraine Academical Institution. He was for two years captain of the school. He played in the Ulster Schools rugby football team and later for the Coleraine Rugby Club, and was an inter-provincial player. He was also a member of the cricket club.
About three years ago he voluntarily relinquished a position in the Ulster Bank and joined the Royal Air Force. He served in Egypt under another former CAI pupil and townsman, Squadron Officer George A Beamish, and later in Iraq. He took part in a flying display on Empire Air Day, and since his last leave had been instructing young pilots.
Funeral To Macosquin
Impressive scenes characterised the funeral to Macosquin Parish Churchyard, near Coleraine. The cortege was one of the largest ever seen in Coleraine. The remains had lain at the Royal Victoria Barracks, Belfast, since Saturday, and on Tuesday morning they were conveyed by road to Macosquin, and were accompanied by a party of ten officers and ten members of the Royal Air Force from Aldergrove's Training Camp at Antrim.
Flight Lieutenant RR Dashper was in charge and the senior officer present was Squadron Leader Victor Beamish, who like Flying Officer Mc Math is an old Coleraine Inst boy. Flight Lieutenant Turner represented the AOC-in-Chief and the23rd Training Group RAF.
The coffin, borne on an Air Force carriage was covered with the Union Jack, resting on top of which was the young officer' cap. The coffin was also surmounted by beautiful floral tributes.
In the towns Antrim, Ballymena and Ballymoney, touched on route from Belfast to Coleraine, the passing of the sad procession was viewed by large crowds of people in reverent respect..
Its arrival at Coleraine, where Flying Officr Mc Math was one of the best known and most popular young men in the district, was awaited by a large gathering of the residents..
The route traversed was thickly lined with people, and business was temporarily suspended, the blinds in shops and private houses being drawn and doors closed. A brief halt was made at the Diamond and then the concluding stage of the journey to Macosquin, about three miles from Coleraine was entered upon. Air Force men with reversed arms preceded the bier; immediately following were the chief mourners – Messrs Joseph Mc Math (father) Ernest Mc Math (brother), James Mc Math (uncle), Ellis Mc Math (cousin), and Robert M Steen (brother- in –law). Then came representatives of the general public, all phases of life in Coleraine and district being represented, and a long line of over a hundred motor cars brought up the rear.
Rev RH Faulkner MA conducted the service in Macosquin Parish Church and at the graveside. As the coffin was being borne from the church, Mrs Abercrombie played Chopin's funeral march.
The firing party of Air Force men fired three volleys, and the bugler sounded the 'Last Post.'
Pulpit Reference
At the service in the church, the Rector, speaking from the text 'Lord, let me know mine end..' Psalm 30 verse 3, made touching reference to the pathetically sad occasion which had brought them together. The tragic death of Flying Officer McMath had, he said, cast a deep gloom over their countryside. Those who knew him felt that something indefinable had been taken out of their lives, and his loving parents and brothers had suffered an irreparable loss. He did not wish that day, nor was it the place, to discuss theologically the reasons why one was cut off in the bloom of youth and manhood , or another lived to the full of years. Curiosity might prompt them to probe into that mystery, but surely it was well that the book of the future, their days here upon earth should remain closed and the generality of people would prefer it to remain closed. He remembered on one occasion talking to Flying Officer Mc Math about the chances of his life in the profession he had chosen, and his reply was significant. 'It is a good thing,' he said, 'we don't know what is in store for us.' Surely it was one of the unconsidered mercies of God that they do not know the number of their days nor how long they had to live. He thought they should all thank God that the future to them was a closed book.
Archie Mc Math had passed from their sight. Death had come to him quickly, tragically, and he had gone home. Soon, all that was mortal of him would be cast into the grave. But, that was not all; they as Christians knew that he lives on, in the heavenly place. St Paul told them that they were surrounded by a great crowd of witnesses, ' those who had gone before.' Archie Mc Math had left behind him, for all of them, and especially for those who nurtured and tended him, the fragrant memory of a beautiful life. He had been brought up in a home where the things of God really mattered, goodness, truth, beauty, and all the virtues. In that house too, love was supreme, and when he reached manhood's estate, the fair flowers of that teaching began to bloom in his life.
He was a sportsman in the best sense of the word. From those who knew him really well, he (the speaker) had learned that anything base or degrading was foreign to his nature. He had set himself a high standard, and they could truthfully say that he lived up to it. His calling in life – that of an officer in His Majesty's Air Force – only intensified his adherence to his high principles.
'He was, if I may say so,' continued the Rector, ' a young man after my own heart. Full of life, the zest of youth, a splendid character, inspiring love, admiration and affection. We shall not easily look upon his like again. His parents have lost a worthy son; one of whom they can be justly proud.'
Continuing, the Rector said they might think that what appeared to them to be ruthless mutilation, by cutting off a young life, just about to flower, was a painful and unnecessary process. Yet they, as Christians, believed that in another place that flower would blossom out in all its glory. One's life had been likened to a serial story. Some, like Archie Mc Math, wrote only a few chapters; others, many chapters, but in heaven above the full book would be finished. He believed that the book of Archie Mc Math's life would be one worthy of the Son of God.
Pieces of advice given to airmen were, 'Safety is determined by altitude,' and ' ' It is safer higher up.' He whom they mourned that day lived high in the estimation of God and his fellow men. His horizon was an extended one, his visibility was good. He sensed and lived for the things of God. He lived high up with him. Here, among his fellows, he lived the Christian life. He had passed on to be one of those many witnesses who, having fought their fight here upon earth had entered into eternal life. A young life, a good life, had been ended, but a new chapter had been opened in the heavenly place. 'Surely,' concluded the speaker, 'The message Archie Mc Math would send to us today is to be men, to be sportsmen in the true sense and for us to go on in the strength which God alone can supply .
AN APPRECIATION BY A FORMER SHOOLFELLOW
Not for many years have the people of Coleraine and district been so deeply grieved as they have been by the tragic death of AA M Math.
The funeral to Macosquin cemetery on Tuesday was the occasion of a spontaneous expression by virtually the entire countryside of sorrow for the sudden end of a well-beloved young man in whom the town of his birth was well pleased, and of profound sympathy for his heart-broken family.
Archie Mc Math was a young man of whom Coleraine was proud. His quiet self-reliance, his kindness of heart and indeed, the essential nobility of his character won him hosts of friends. Young men are diffident about speaking of their inner feelings, but all who shared the friendship of Archie Mc Math needed no words to say how they valued it. His strength and good nature left a clear impression on all who met him.
It may be excusable to say that in Archie Mc Math, many both old and young, saw the type of young manhood which they held in great esteem.
Courage, honour, naturalness, these qualities have always been the ideals of the Ulster mind. Dwellers in this Province are quick to grasp the hand that is put forward kindly, yet fearlessly.
That his was the mould in which the character of Archie Mc Math was cast has been apparent since his early schooldays.
At Coleraine Academical Institution, where he was Captain of the school rugby team, and one of its sturdiest athletes, he was the hero of younger boys and the chosen leader of his contemporaries. His very reluctance to take priority over any, made him the one all were pleased to follow.
It is a pathetic recollection that while he was atschool, another boy, several years his junior, writing of what great man he would like to emuilate, chose not Nelson or Napoleon, but Archie Mc Math. No more popular young man ever went forth from Coleraine Academical Institution, nor one more truly of the stamp that that fine school has always striven to produce..
Let it not be thought that we are setting store by physical prowess alone. Archie Mc Math commanded not only admiration for his athleticism, and affection for his warm-heartedness, but also respect for his mental attainments. While he achieved inter-provincial honours on the rugby field, he also acquitted himself with credit in the examination room. After being successful in the Ministry of Ediucation's senior grade, he additionally took a high place in the competitive examinations of the Ulster Bank.
But banking gave little scope to his adventurous spirit. That sparkling courage that ringed him with friends made him relinquish the security of a comfortable post for the vivid life of the Royal Air Force. From an obscure branch office in the Bog of Allen he was off to Egypt, Persia and Iraq. His success in the Air Force was as immediate as it was inevitable. His last leave was the prelude to responsible duties as an instructor of young pilots. Always others have been learning from him the possibilities of youth, though he was no older than themselves.
Now, he who was so full of life is gone. A family has had overwhelming grief and a community has been bereaved. In the face of such indescribable sorrow, thoughts of consolation are hard to devise. May it be some meed of comfort to his mourning parents, his brother and his other relatives that their sorrow has many sharers .
ARCHIE MC MATH
When hearts are healed hereafter
By balm of passing years,
And eyes shall clearly see again
That are blinded now by tears.
How should we fail to fathom,
In God's good time, the truth –
What seemed like a life unfinished
Was everlasting youth.
When we who ran beside him
Shall stumble towards the mark,
And youth's bright eyes have grown so dim
And the world is getting dark,
How should we fail to fathom,
When the tale of life is told –
That we shall be young together
Since he has not grown old
The wreaths included the following:
Coleraine Bankers Mr& Mrs Vincent Smith, Major & Mrs White CAI, Officer Commanding and officers RAF Station Aldergrove, OC and officers Catfors Camp, the boys of his old school, Gladys King, Tom Blair and family Duban S Africa, Mr & Mrs McCloskey, the teaching staff CAI, RUC Coleraine, Limavady Rugby Club, Cooke Freddy and Tommy, OC & Officers No 9 FTS, Coleraine Rugby Football Club, Mr & Mrs JS Blair Ballinteer House, Isobel & Robert Ballystrone, Willie Oliver, & James Patterson RUC, Captain & Mrs Abercrombie, LOL NO 4 Ballinteer.